Well this is my first recomendation, the sopor aeternus creation "Dead Lovers Sarabande face 1" is just beautiful, the drone, depressive ambient, blows away your mind, with that nice and clean baroque sound, plus some well finished lyrics, vocals and the dreamy interpretation of The Sleeper of Edgar Allan Poe and a well elaborated art, dedicated to Rozz Williams, this cd is a MUST, one of the very best opus of Anna Varney and his/her ensemble of Shadows.
Bueno gente (lol) esta es mi primera recomendación, la creación de Sopor Aeternus and the Emsemble of Shadows,
Dead Lovers Sarabande face 1
, la verdad a mi parecer es por mucho la mejor creación de este grupo hasta la fecha, es simplemente hermoso el ambiente oscuro, lúgubre, casi en momentos hasta nauseabundo que emana es simplemente genial, siempre destacando ese sonido barroco de la mayoría de sus composiciones, la onírica interpretación que hace del poema de Edgar Allan Poe,
The Sleeper
, es simplemente majestuosa, este disco es definitivamente un deber en toda galeria musical, leyendo por ahí me encontré con el hecho que es dedicado al difunto Rozz Williams, vocalista de la banda de gótico Christian Death, así que disfruten esta pieza de arte porque vale muchísimo la pena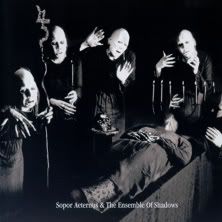 Genre
: Ambient, ethereal
Year
: 1999. Re-release: 2004
Label
: Apocalyptic Vision.
Tracklist
:
"Across the Bridge" – 4:44
"On Satur(n)days we used to sleep" – 8:58
"Hades "Pluton"" – 6:12
"Sieh', mein Geliebter, hier hab' ich Gift" – 6:22
"Ich wollte hinaus in den Garten" – 8:32
"Gebet: an die glücklichen Eroberer" – 1:59
"Lament/Totenklage" – 8:18
"The Sleeper (by Edgar Allan Poe)" – 11:57
"Die Knochenblume" – 1:05
"Inschrift/Epitaph" – 3:27
"All good Things are Eleven" – 2:49
Musicians
:
Anna Varney -Lead Vocals
Johannes Knirsch - Double Bass
Katrin Ebert - Violin
Martin Höfert - Cello
Eugene de la Fontaine - Tuba, Oboe
Peter Hergert - Trumpet, Trombone
Doreena Gor - Bassoon
Eric Santie-Laa - English Horn
Martin Hofmann - E-guitar, Acoustic Guitar
and of course The Ensemble of Shadows
Photos
: Joachim Tremmel
Art Concept
: Anna Varney
Download Link:
Dead Lovers Sarabande Face 1